I'm a bit conflicted about putting out a newsletter right now. On one hand, I feel the need to "get out the way": there's a lot on people's minds right now, and most of it focused on the immediate needs of friends and family. On the other, people are doing their best to focus on things other than the pandemic by reading, watching and chatting. If Vanity Metrics can provide you with a bit of a distraction from your worries, stimulate your thinking, or just give you something to talk about with friends and colleagues, I'll continue to publish as appropriate. As the industry as a whole operates on low-power mode, there may not be enough content to gum up your inbox weekly, so let's play this one by ear.
The Vanity Metrics back catalog is free and available for you to browse, comment and share. Here's a round-up from the last two weeks. Let's get to it.
The Big Stuff
COVID-19 Round-Up
Ryerson University's Social Media Lab has launched a new COVID-19 misinformation web portal for Canadians, though much of the information is useful to any social media user. The aim is to spotlight misinformation trending on social and to gauge it's spread.
The Small Stuff
Facebook may be introducing video selfies as verification for new accounts. It's been spotted in the wild, but no confirmation from FB just yet.
With the rise of open video chats for work and for socializing, beware of trolls. Having been involved in one of the video chats in this story I can say, make sure you know what your admin controls are before you start.
Of course, I'd be the one not at my seat in the screenshot.
I'd expect this feature to get pushed out fast: Facebook is testing (with Sephora) new Custom Audiences ads to link to your FB and Loyalty Program memberships. "Once connected, members will be able to track the status of their brand loyalty account via Facebook, while they'll also be able to earn points for their on-platform activity, get member discounts on purchases, and have any points for online shopping linked back to their customer ID."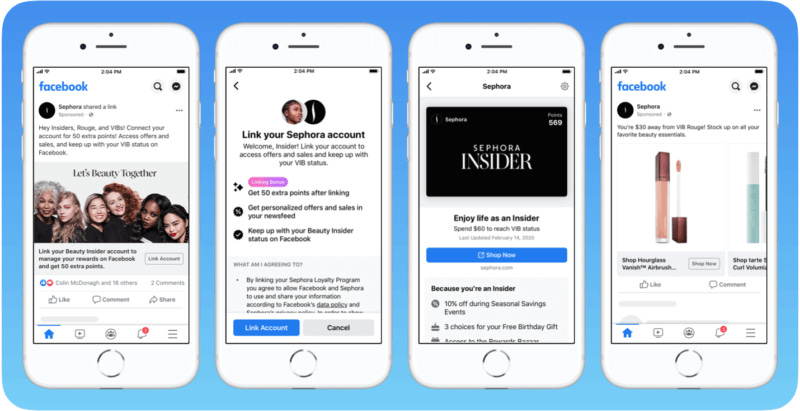 ---
Bonus for Your Phonus (or anything with a camera)
Are you craving a little social in your semi-social life right now? Casey Newton and Hunter Walker have been hosting regular #WHFHappyHour video meetups for tech and social media professionals. Each hangout so far has included interviews with journalists, updates and just a good opportunity to hang with someone other than your cat.
@sarahfrier discussing her new book, No Filter: The Inside Story of Instagram on #WHFHappyHour
Want in on it? Follow Casey and Hunter on Twitter and watch for the daily-ish link, as each hangout generates a new URL. The chat typically goes live around 5PM PST (8PM EST for me).
Got a recommendation for good content to dive into? Drop links to videos, chats, and podcasts in the comments.
---
Ryan LaFlamme has worked in social media marketing and advertising for longer than the job had a title. He formed the independent social consultancy Hub and Spoke in 2016, and can be found hanging out on Twitter @ryanlaf Now accepting new clients and speaking engagements.