A short recap of the cycle of bad press Facebook continues to rack up and shrug off, and a flurry of platform updates that have surfaced in the last three days. Let's get to it.
The Big Stuff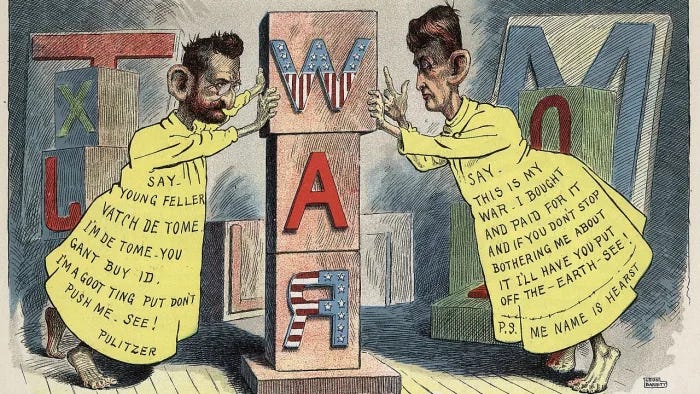 Public domain image, 1898.
Facebook is having another bad week.
Ranjan Roy's thinkpiece "Facebook's PR Feels Broken" has been making the rounds this week, and for good reason. He suggests that since late 2018 (when Zuckerberg and Sanders appeared before congress), Facebook has shifted its media/communications stance from friendly to combative.
This story comes on the heels of the leaked memo from Facebook's Andrew Bosworth (we mentioned him in Vanity Metrics #5), which acknowledges that Facebook will provide Donald Trump a good chance at reelection because his team spends the most money on the platform, and they have almost no rules and no fact-checking governing posts by political figures. They know they have that amount of unchecked power.
"As tempting as it is to use the tools available to us to change the outcome, I am confident we must never do that or we will become that which we fear. " - Andrew "Boz" Bosworth
Side note: this is Bosworth's 2nd cringe-worthy memo that's leaked. In 2016, he suggested that Facebook's grow-at-all-costs ethos was good, "any growth on Facebook is de facto good, even if it leads to people being harmed or killed." The memo was widely denounced by Facebook senior staff.
This big leak was followed immediately by "Teen Voguegate", which is a bizarre sponsored story fuck up so strange I'll link to Gizmondo's play-by-play.
At the risk of re-writing Ranjan's piece, I'll leave it at this: Facebook has, for over a decade, been very good at constructing a unified public image. A pretty picture painted on an iron curtain. No insider info, no leaks. That image has cracked, and some of the information oozing out isn't great. One of the things that really gets me though is for a company with the size, the funds and the expertise of a small country, the handling of all this feels very amateurish.
It has come to my attention that my Teen Vogue article on "Why Facebook Is A Shining Beacon of Hope For Democracy" did not disclose that Facebook funds my work. Apologies for this minor oversight.
---
The Small Stuff
Tik Tok has set up an internal team to get publishers involved in branded content deals and content development ideas. Publishers like Washington Post, Complex and ESPN have seen huge growth on the platform in the last few months.

Tipping is not coming to Twitter. This made a lot of noise for about 12 hours but is almost certainly not happening (I seem to have lost my link to an employee shutting this notion down).

Neither is an edit button, so stop asking:

However, the company's Head of Product Kayvon Beykpour did mention they are actively investigating ways to disincentivize trolls on the platform. One option? A rating system (like Uber) and the removal of… wait for it… vanity metrics as a form of validation for bad behaviour.

Whoa. WhatsApp is backing away from introducing ads to the platform. Facebook bought WhatsApp for a staggering $22B in 2014 but has yet to figure out a way to monetize the app.

Just received from a Facebook spokesman: WhatsApp ads "remain a long-term opportunity," but not a priority right now. No timeline for when they may launch.

Applications to access Livestreaming on LinkedIn are live. Space is still limited, and applicants must submit both their company pages and their individual admins for review. For brands looking to engage with niche interest groups, not selling, this looks to be a promising content channel I'm interested to try with one of my clients.

Twitter may be implementing options to limit who can reply to your posts. The idea is to restrict replies to four groups: Public (anyone can reply), Group (people you follow or mention), Panel (only those mentioned), and Statement (no replies). I'm appending "may be" to this, as the concerns for this kind of one-way communication by authority figures are high.
Instagram is developing a maps sticker.

4 of the top 5 apps downloaded in 2019 were Facebook-owned companies.
Ad breaks are coming to podcasts on Spotify. Wider testing will be rolling out to Spotify Originals and podcasts exclusive to the platform, before expanding to its 500,000 podcast library. Spotify reported ad revenue of $189 million for ads in Q3 2019.
Fun fact: 79% of Canadians now subscribe to a music streaming service (paid or ad-supported). Estimated to grow to 91% (!) by the end of 2020.
Spotted: Instagram is testing the ability to share DMs to stories (with approval)

Instagram has added 3 new Boomerang effects in an effort to revive the feature many see as outdated: Slo-Mo, Echo, and Duo.
Instagram may be rolling out DM access to the web, a godsend for Community Managers, and part of Facebook's long-term plan to unify all core platform messaging under the Messenger app/site.

Snapchat remains a bit of black sheep to me, but there's no denying they do some things really well. Like Augmented Reality and AI/computer vision. This week they've introduced a new game to their "Snappables" AR game line-up. Scavenger Hunt uses object recognition to set you off to find 8 objects in the real work, unlocking a new "Hunter Hero" selfie filter for winning.
Joke Twitter is a real thing, and it's a wonderful take/takeoff on the general zeitgeist. Nathan Allebach traces the roots of Joke Twitter and outlines the Twitter sub-genre tree of life much better than I ever could.
danny devito isn't going to die he's just going to keep getting smaller and more dense until he finally collapses into a blackhole and swallows the earth
FRIEND: It's called cauliflower. It's not ghost broccoli. ME: [taking a long drag on my cigarette] Listen kid, I know what I saw.
---
Bonus for your phonus
I'm jumping ahead a bit, but it's worth it. This week Geekout with Matt Navarra returns with a great interview with Instagram's Head of Product Vishal Shah. Shah spills the beans on how the like-hiding has been doing as well as big plans for 2020. Check it out here!
See you next week! As always, if you liked what you read, please share it with someone you think might too.
---
Ryan LaFlamme has worked in social media marketing and advertising for longer than the job had a title. He formed the independent social consultancy Hub and Spoke in 2016, and can be found hanging out on Twitter @ryanlaf Now accepting new clients and speaking engagements.